Four Surprising Ways to Get into Galleries and Sell More Art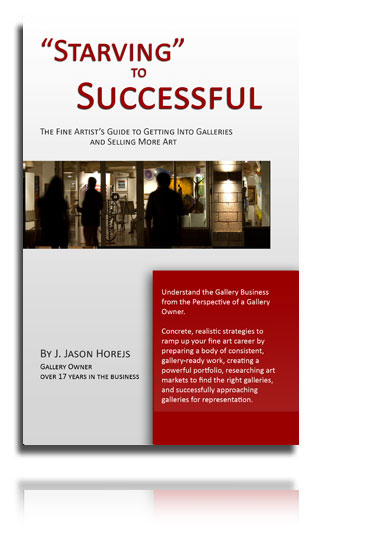 Throughout the last year I have spoken with hundreds of artists from all over the country. As you can imagine, the over-all story I have heard from many artists is pretty grim. It's no secret the art market has been hurting.The economy has been especially cruel to the art business. I have met artists whose sales have dropped a lot in the last three years. I've talked to artists who have nearly given up on hopes of being profitable again. I have seen galleries that have had to close their doors. Times are tough.
However, you might be surprised to learn I have also met artists who have taken advantage of the down economy. Instead of giving up, they have worked harder than ever. They are already starting to see an increase in sales and are getting representation in great galleries. These diligent artists are positioned to achieve great success as the economy comes back around.
I have been asking these artists what they are doing to build their business, and my book, 
"Starving" to Successful |The Fine Artist's Guide to Getting into G...
, shares what I have found. This book not only gives you valuable information from my discussions with artists, it also gives you an inside understanding of how galleries select their artists and what you can do to successfully approach galleries.
Some of the guidelines I convey in the book are going to be surprising. You are going to learn that some of your natural reactions to the economy are exactly opposite of what you should be doing. Below, I have included four of the most important and perhaps most surprising findings.
Increase Production!
This suggestion is probably exactly the opposite of what you (and many other artists) have done. When sales start to slow many artists tend to pull back from creating. It's hard to invest in materials when the prospect of immediate sales has retreated. It's tempting to pull into your shell and wait for the storm to pass.
Now is the time to do exactly the opposite. While everyone else is pulling back, you have the opportunity to get ahead. If you can continue to build your inventory and expand your gallery representation, you're going to increase your sales. You'll also be in a position to capitalize on the increased sales that are sure to come as the economy continues to improve.
I have found that successful artists are those who are consistently and constantly in the studio producing. They are often described as "prolific". If you can put your energy into building an inventory of strong pieces then you will be in a position to secure good gallery representation.
Several techniques you will find useful in increasing your productivity:
A.    Set a consistent allotment of time every day, during which you commit to being in the studio creating; then stick to that schedule religiously. Consider your time in the studio sacred, and ask your family and friends to respect that time.

B.    Set a goal to create a certain number of works per week. My father haslong had the goal to produce two paintings per week. Some weeks it's two medium sized works, while others it's a large work and a study; but every week he diligently strives to get to that magic number, and every year he has completed over 100 pieces.

C.    Get distractions out of the studio. If possible move the computer to another room, or at least turn it off during your studio time. I am always amazed how I barely click "send" on an e-mail to an artist, only to have an instantaneous reply in my inbox. I figure one hand must be on a paintbrush and the other on the keyboard.
Focus!
Artists generally love their freedom. They want to experiment. They love a challenge. They crave variety. All good things, except when you a representing your work to a gallery.
The work you present to a gallery needs to be unified. It doesn't need to be repetitive or formulaic, but it must present you as a consistent artist with a clear vision.
Often I feel I am looking at the work of multiple artists as I review a single portfolio. To avoid this problem you need to find focus in your work.
If you work in several media and a variety of styles, focus on just one for the next 6-12 months. Create a body of work that feels like a "series". Once you have 20-25 gallery-ready pieces, you will be ready to approach a gallery.
You can further create consistency by presenting your work in a consistent way. Use similar frames for paintings and photographs, compatible bases for sculpture, unified settings for artistic jewelry. Make it very clear all of the work is by the same artist.
If you simply can't rein your style in, consider creating multiple portfolios, one for each style.
Don't confuse the galleries you approach by presenting multiple styles in one portfolio.
Raise Your Prices!
This is perhaps the most surprising advice I can offer. I find that the vast majority of artists I encounter are under-valuing their work, and as a consequence their sales suffer. I understand the temptation to keep prices low. You can probably list a litany of good reasons. "I am not as well established as other artists." "I'm already not selling well – won't it get even worse if I raise prices?" "The economy is down" . . . and on and on.
My counter argument is simple. Because the value of art is arbitrary, art collectors and gallery owners have no way to know the value of your work until you tell them. Set your price too low and the collector will think you're not well established,or worse that there is something wrong with your work.
In my book I offer concrete suggestions for systematically pricing your work. Although I don't have space to lay them all out in this note, I can tell you the most important include:
Be consistent when pricing your work.

Institute a pricing formula.

Base your prices on comparable artists.

Pricing is one of the most important and most difficult aspects of marketing your work. It's important that as you put your work out into the marketplace you be able to confidently assert your value
Get Organized!
Finally, as you ramp up production and build more relationships with galleries, it is critical that you organize your work. I know that organization probably doesn't come naturally, but if you can put a system in place to get organized and then stick to it then you can take the pain out of putting your studio in order.
You can implement several ideas to start systemizing your organization process:
1.    Move your inventory record-keeping to the computer. Having a good, simple inventory program in place to organize your artwork is going to vastly simplify your record-keeping process. We offer a terrific software option on our website called ArtTracker. This program was designed with you, the artist, foremost in our minds. This means the software is simple to use, and it's affordable. With a few simple clicks you can record all of the important information about your work and then have instant access to it.

2.    Start using an inventory number with each piece of artwork. Having a numbering system in place will allow you to instantly identify work and tie it back to your inventory system.

3.    Include all of the information about your artwork on the artwork.
Getting your studio organized will free you to put more focus on your work, and it will make you a hero to the galleries you work with.
Gain more insight into building a successful career as an artist by ordering a copy of my book, 
"Starving" to Successful,
today.
In addition to the tips above, you will learn how to prepare your portfolio for approaching galleries, gain insight into what galleries are looking for and how they will perceive you and your work, and most importantly, you will get a clear picture of the steps you should take to get your work into galleries and build solid, profitable relationships with them.
Sincerely,
J. Jason Horejs
Owner 
Xanadu Gallery
Special Holiday Pricing
| | | |
| --- | --- | --- |
| | | |
| | | + "Starving" to Successful Book |
| | | |
| regularly $24.95 + s&h | | regularly $55 + $24.95 = $79.95 |
| Order "Starving" to Successful for only $19.95 ($5 off the Amazon list price) and we'll include free shipping | | Order "Starving" to Successful plus ArtTracker (download) together and save $20 – plus free shipping on the book. |
| $19.95 (FREE Shipping & Handling) | | $59.95 (FREE s&h for Book, software is a download) |
| More Info | | More Info |
| | | |


But hurry, this offer is only valid through 12/24/2010 or while supplies last. If you order now we will make every effort to ensure your order arrives before 12/24/10.




Testimonial

I found Xanadu Gallery a little over a year ago on a web search . . . I then bought your book (read it from cover to cover), the Art Tracker (very helpful) and recently watched your 
Webinar on shipping Art
. 
Since I read your book, many wonderful and exciting things have happened. I tripled my art production, work a five day schedule in my studio,produced a cohesive new body of work that I am very excited about, put together a professional portfolio, a website and an email Art Update,which I send out regularly. I am exhibiting at Viridian Artists Gallery in New York and have been in many shows this year both there and at other galleries and art centers in Chicago and around the country and I already have four group exhibitions and a solo exhibition scheduled for the new year. I am a very organized and productive person, but all the wonderful information I received from the book and the seminars really motivated me and help set all this into motion.
Best regards,
Carol Brookes
www.carolbrookes.com
XanaduGallery | 7039 E. Main St. #101 | Scottsdale, AZ 85251 | 480.368.9929 | 866.483.1306 |
info@xanadugallery.com
| 
www.xanadugallery.com